The
National
Carpetball
Association
The National Carpetball Association exists to support, promote, and encourage carpetball as a sport. As such we offer free carpetball table designs.

The most difficult part of the carpetball table is finding space for it. That is why our table design folds for storage in an 18"x24" rectangle.

The National Carpetball Association has been using this design for years they seem quite safe, but both carpentry and high speed resin balls are inherently dangerous, build and play at your own risk.

The play surface is a 2'x5.5' piece of 1/2" OSB. Lay out 2"x4"x2' cross supports. Add the carpet for the play surface and trim to fit. After trimming place the 1"x6"x6' and 1"x6"x2' side pieces. next add a 2'x7" piece of OSB to the bottom of the scoring tray.







At the point that the two halves meet, either use 2 4"x4"s or else 2"x4"s placed vertically. Attach the two halves with hinges.
The legs can be purchased from a hardware store or built from 2"x2"s. I found the bought legs for $15 a pair and they seem worth it to me.
When the table folds up you don't want the balls to fall out so you will want to build some ball keepers.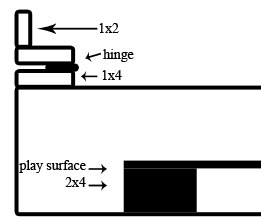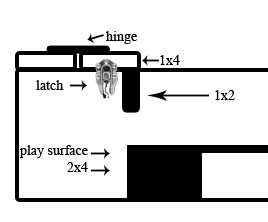 A large latch should be placed to hold the end of the table, with the casters, together. Place the latch on the same side of the table as the latches for the ball keepers. (That way you can lay the table down on the other side when you fold it up).
Finally, you should attach the casters.

Other considerations:

There are many variations for construction of your table. While the National Carpet Ball Association encourages the use of the official 2'x12' or 3'x15' dimensions, we are hardly fanatical about it.

Some people have added plexi glass over the center portion of the table, wooden slats, or built high walls to try to keep the balls from jumping out of the table. We find that these are largely ineffective (balls tend to jump off the end of the table, not the center). Additionally, following the rule: if you knock a ball of the table you forfeit, keeps the balls on the table.

Outdoor tables should use pressure treated wood or outdoor paint.
Two tables are better than one.
Thicker carpet makes for better game play.
© 2010 NCA